CUSTOMIZED PHARMACEUTICAL SOLUTIONS
WE LIKE TO BE
YOUR PARTNER!
For any specific requirements you may have, we can deliver customized solutions to help ensure smooth operations and accurate results for you.
Insulin filling lines and parallel procurement of all necessary sample materials, including registration of the packing materials in the end-user's country.
High-speed inspections, labeling, and end packing lines for cartridges, including project management and coordination of suppliers.
Syringe processing lines for COVID-19 vaccination (forming & annealing), including cannula insertion, washing, siliconizing, shielding, nesting, and packing from a single source, with complete project coordination and including procurement of non-existing sample material.
Turn-key granulation lines, comprising mixer, FB dryer, coater, container washer, WIP system, container blender, and blistering, with integration of local content such as air duct, working platform, piping, installation, commissioning, and IQ / OQ support.
Health-drink lines comprising BFS, leak detection, capping, and labeling as well as special end packing.
Plaster production lines comprising coating, slicing, stacking, packing, and end-packing, with complete project management, transfer of sample material, and coordination of single shipments.
Turn-key factories for injectables (liquid & lyo), including water purification, loops, filling lines, autoclaves, and complete clean rooms.
Tablet production lines, including pneumatic or drum feeding of granulate, metal check, dedusting, and transfer to packing line (tubes or blisters).
Oncology production lines, including vial filling line for lyo products with transfer to freeze dryer and subsequent outside washing, all under isolator and including dry-solids processing as well as packing equipment.
If nothing is shown here , there is no current event for this industry available.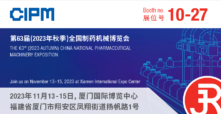 Nov 13-15, 2023
Fujian, China

Pharma
Exhibition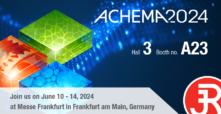 Jun 10 - 14, 2024
Frankfurt, Germany

Pharma
Exhibition