UNIQUE PACKAGING INNOVATIONS
The packing industry is one of the biggest and most complex industrial sectors. When it comes to fast moving consumer goods (FMCG), the packaging and presentation of a product is a key success factor. The bottleneck in most production can be found at the end of the line and the solutions needed here also have to fulfill marketing requirements for innovation in a fast moving sector. This presents manufacturers with a number of challenges.
To address these issues in a professional way, the Rieckermann Packaging and Filling Applications sub-division is always up-to-date with the latest developments in this highly dynamic environment.
Together with you, we design and develop individual primary and secondary packaging solutions with a high focus on automation. With our technological solutions you gain more product consistency and reduced labor costs. Filling and packaging applications do not only affect the appearance of products, but also influence factors such as shelf-life, quality, and other product characteristics. We try to understand your product and process and analyze all possible factors that might influence your final product characteristics. With that approach we are able to improve or optimize your process and consequently your final product.
Our organizational structure enables us to provide you with the approach that fits best with innovative filling and packaging solutions.
Technologies
Powder filling lines
Liquid filling lines
Bag-in-box filling lines
Thermoforming lines
Form, fill & seal (FFS) packaging solutions
Inspection systems
C, palletizing
OTHER FOOD PROCESSING SOLUTIONS
If nothing is shown here , there is no current event for this industry available.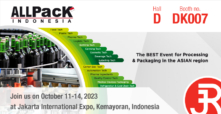 Oct 11 - 14, 2023
Jakarta, Indonesia

Multiple industries
Exhibition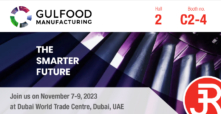 Nov 7 - 11, 2023
Dubai, UAE

Food Processing
Exhibition