KEEPING YOU AHEAD OF THE COMPETITION WITH NEW TRENDS
The growing bakery product market is constantly setting new trends. In a very competitive environment, cost-effective production is the key for every industrial bakery and can be strongly influenced by efficient raw material handling processes. Rieckermann's tailor-made solutions focus strongly on optimal production and handling processes.
Over the years we have supplied various installations for bakery and pastry plants. Our portfolio ranges from raw material handling, processing plants, ovens, and freezers to individual packing systems.
As the trend towards health-conscious nutrition grows, food producers need to meet consumer demand for products viewed as "healthier". Cereals and sugars serve as raw materials for various downstream applications in the food industry. Sources of vitamins, minerals and proteins add value and play a vital role in the diet of people with a healthy outlook on life.
The conversion processes of these raw materials into food ingredients or consumer products are an important segment of our portfolio. Together with you, we design the ideal process for your production requirements and supply the required machinery to achieve consistently high product quality.
With our experienced partners in this industry, we can provide you with integrated solutions from product development to downstream packing, including ideal solutions for a range of production processes.
We would be happy to discuss our solutions with you in more detail and assist you with your projects.
Technologies
Baby food lines
Snacks & breakfast cereals lines
Granola production systems
Starch modification lines
Rice processing
Sorbitol & sweeteners production
Bread production lines
Hard & soft biscuit lines
Cake production lines
Cream preparation lines
Case study
Market: Vietnam | Customer: Bibica Corporation
The situation
Bibica is a leading bakery and confectionery company in Vietnam, offering a wide range of products. They are the first manufacturer in Vietnam to offer sugar-free confectionery, low glycemic index (GI) instant cereals and other consumables that are safe for diabetics, babies, children, and pregnant women. Their most recent product to be launched is a new range of crackers, for which they needed the processing line for their factory that will manufacture this new product.
The challenge
Bibica's new range of crackers requires a processing line that can produce four varieties of crackers at a high capacity. As their food products are exported to various Asian countries, the US, and South Africa, they must ensure that the products are of the highest quality and able to meet strict international food requirements. Quality is therefore a top priority for them, especially as a reputable local brand in bakery and confectionery.
The Rieckermann solution
To meet Bibica's requirements for quality and capacity, Rieckermann has provided a state-of-the-art processing line, supplied by Reading Bakery Systems, a leading a leading manufacturer of bakery equipment from the US to produce the four varieties of crackers. The processing line can produce 1,000 kilograms per hour, which is equivalent to a maximum output of up to 220,000 crackers per hour. The installation and commissioning of the line was completed by Reading's and Rieckermann's engineers until the project acceptance, with the additional after sales technical support provided by Rieckermann.
The key result
With the new processing line installed by Rieckermann, which fulfills Bibica's requirements for quality and capacity, Bibica benefits from having competitive pricing for their new range of products. With this, Bibica can continue having a strong brand presence and high market penetration in Vietnam. As a client of Rieckermann in Vietnam for over 20 years, Bibica's longstanding relationship attests to their confidence and trust in the quality and reliability of services offered by the industrial solution provider as their partner.
OTHER FOOD PROCESSING SOLUTIONS
If nothing is shown here , there is no current event for this industry available.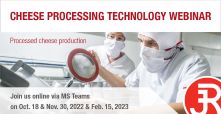 Oct 18, Nov 30, Feb 15 | 14:00 – 18:00
MS Teams

Food Processing
Webinar