RIECKERMANN AT PROPAK PHILIPPINES 2023
Rieckermann strenghtens their status as a first choice industrial solution provider at Propak Philippines 2023
Rieckermann ended their participation at this year's ProPak show in the Philippines on a high note as a recipient of the Sustainability Booth Design "Informative" Award. Returning to the show for their second consecutive year, Rieckermann marked their appearance with the award-winning booth setup with a view to directly engaging with visitors and prospective customers at the event.
With their own internal experts and partners present, Rieckermann showcased their 130 years of industry experience by introducing the latest cutting-edge solutions in machinery, engineering, and technical services. Aimed at industrial activities of differing lifecycles, these wide-ranging solutions covered focus industries such as Food Processing & Packaging, Pharma, and Packaging Material Solutions.
In addition, Rieckermann hosted a comprehensive Pharma seminar featuring several representatives from their partner companies, including Changsung Softgel Systems, Glatt India and VISIOTT Traceability Solutions. Topics discussed were diverse, including presentations on a number of processing and packaging operations within the industry, such as softgel production, granulation processes, and traceability systems. The seminar was much appreciated by participants, with many finding the active information-sharing session useful for exploring various industry solutions and current market trends.
The interactive sessions and direct on-site engagements proved to be highly valuable for both Rieckermann and their potential clients. Through their well-designed exhibition and seminar, Rieckermann was able to effectively share their industry know-how, as well as provide on-site support and consultation to visitors. In recognition of this, Rieckermann was awarded the Sustainability Booth Design Award in the Informative category, underlining their presence on the scene.
ProPak Philippines 2023 was held from February 1 – 3, 2023 at the World Trade Center Metro Manila in Pasay City. Currently in its fourth year, it is the leading international processing and packaging trade event for the Philippines.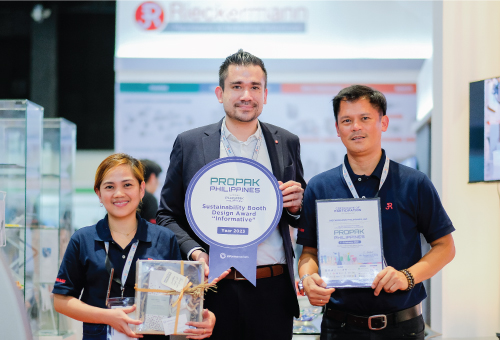 Special thanks to our partners:
Glatt, India
Korsch
De Lama
Weiler
Changsung
VisioTT
Baker Perkins
Our Lead
Mazzetti
DEC Impianti
Renzmann
Cypet
Lohia
FAM
Omag
Schenck Process
Haensel Processing
Holac
Vemag Maschinenbau
Vemag Anlagenbau
Seydelmann
Gunther Maschinenbau
Berief Food
Alimec
Gasparin
Sancassiano
Reepack
Variovac
Hapa